Pak Kyong Il: APRCPRK is a Powerful Organization Leads and Coordinates the Friendship and Solidarity Activities in the Region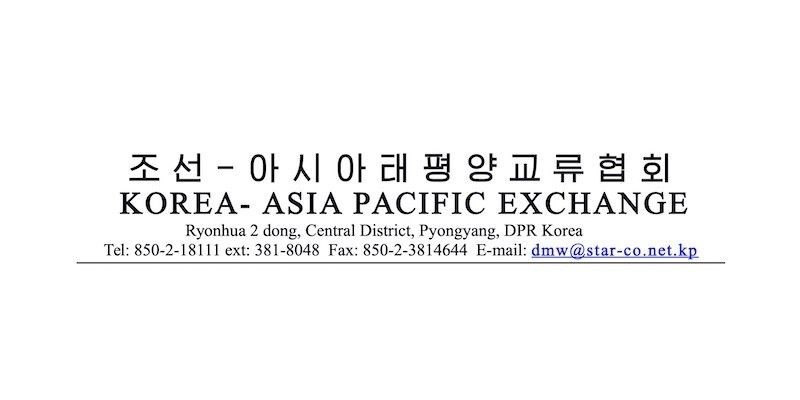 Pak Kyong Il, Chairman, Korea-Asia Pacific Exchange, issued the following press statement as appreciation for the good work the Asia-Pacific Regional Committee for the Peaceful Reunification of Korea, on February 24, as follow:
Dear Comrade,
My comradely greetings from Pyongyang. I would like to express my heartfelt thanks to the APRCPRK for presenting a courteous letters of congratulations to Comrade Kim Jong Un, chairman of the State Affairs of the DPRK on the occasions of the recent Day of the Shining Star and the anniversary of the founding of the Korean People's Army.
APRCPRK, lead by the co-chairs who are prominent figures in the region and with the pivotal roles of Mr. Raymond Ferguson, director of APRCPRK Secretariat and Mr. Teguh Santosa, its director of Public Information Bureau, is further developing as a powerful organization which leads and coordinates the friendship and solidarity activities in the region – I am immensely happy to follow this positive developments and remain very much appreciative to the dedicated and continued efforts of all the comrades.
Availing myself of this opportunity, I would like to express my firm belief and confidence that the APRCPRK shall discuss and confirm the details for proposed Jakarta event on the occasion of the V-day of the Korean people in this year, and that the APRCPRK will successfully discharge its important mission in the coming March by leading the regional friendship and solidarity activities
into the right direction.
Once again I would like to express my deep thanks to every one in the APRCPRK for presenting a very sincere letters on the major holidays in February.
Best regards.

Share