Respected Comrade Kim Jong Un Guides Test-Fire of Long-Range Strategic Cruise Missiles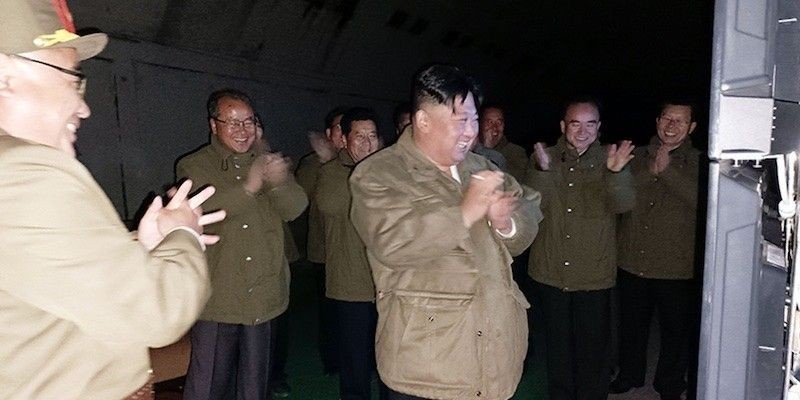 A test-fire of long-range strategic cruise missiles was successfully conducted on October 12 amid powerful practical measures being taken to signally bolster up the national war deterrent as required by the prevailing situation and revolution.
Kim Jong Un, general secretary of the Workers' Party of Korea (WPK) and chairman of the Central Military Commission of the WPK, guided the test-fire of the long-range strategic cruise missiles on the spot.
Members of the Party Central Military Commission watched the test-fire.
The test-fire was aimed at further enhancing the combat efficiency and might of the long-range strategic cruise missiles deployed at the units of the Korean People's Army for the operation of tactical nukes and reconfirming the reliability and technical safety of the overall operational application system.
Two long-range strategic cruise missiles flew for 10 234 s along an oval and pattern-8 flight orbits in the sky above the West Sea of Korea and clearly hit the target 2 000 km away.
The successful test-fire clearly proved the correctness, technical advantages and actual war efficiency of the overall weapon system.
Expressing great satisfaction over the result of the test-fire, the respected Comrade Kim Jong Un highly appreciated the high reaction capabilities of our nuclear combat forces which proved again their full preparedness for actual war to bring the enemies under their control at a blow through the unconditional, mobile, precise and powerful counterstrike by any weapon system.
Stressing again that the test-fire is our another clear warning to the enemies and the practical verification and clear demonstration of the absolute reliability and combat capacity of our state's war deterrent, Kim Jong Un added that we should continue to expand the operational sphere of the nuclear strategic armed forces to resolutely deter any crucial military crisis and war crisis at any time and completely take the initiative in it.
Saying that to steadily bolster up the national defence capabilities is our consistent and invariable revolutionary policy and keynote of struggle which can never be delayed and should neither be postponed in order to defend the dignity and sovereignty of the country and its right to existence, Kim Jong Un stressed that we should focus all efforts on the endless and accelerating development of the national nuclear combat armed forces.
Expressing expectation and conviction that the nuclear combat armed forces of the Republic would perfect the military preparedness more correctly and confidently, Kim Jong Un had a significant photo session with the members who contributed to the successful test-fire.

Share