Talk Program and Film Show to Mark the 62nd Anniverssary of Comrade Kim Jong Il's First Instruction to the Revolutionary Armed Forces of DPRK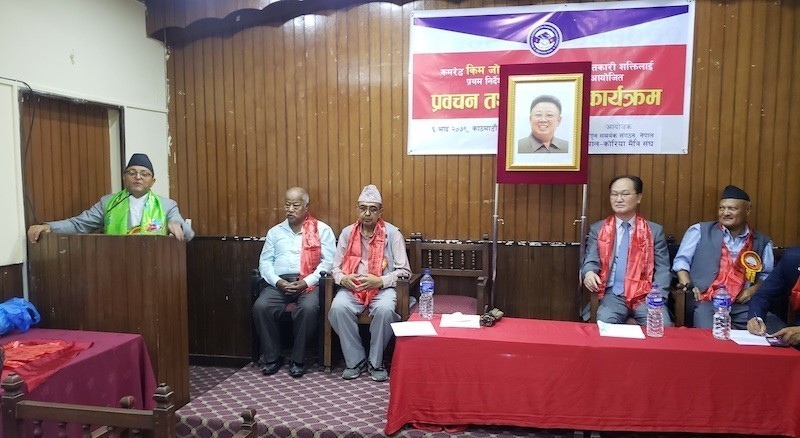 Today on August 22, the Nepal Korea Friendship Association and Nepal Association for Supporting Songun Policy jointly organized a talk program and film show to mark the 62nd anniversary of Comrade KIM JONG Il's first instruction to the revolutionary armed forces of DPRK.
Rt. Hon Ganesh Prasad Timilsina, Chairman of the National Assembly of the Federal Parliament and H.E. Ambassador of the DPRK to Nepal Jo Yong Man kindly graces the function as Chief guest and special guest and Former Deputy Prime Minister and Chairman of Friendship Association Comrade C. P. Mainali, Hon. Nabina Lama, Member of Federal Parliament, Political Analyst Dr. Surendra K.C., Communist Leader Comrade Hasta Bahadur K.C., and President of Nepal Journalist Association Dr. Manju Ratna Sakya highlighted the Korean peoples' just struggle for the independent and peaceful reunification of Korea and dignity of the nation.
During the function Press statement of the Vice Department Director of C.C, of the WOK Kim Yo Jong was distributed and the result of the Fact-Findings of the State Emergency Epidemic Preventing Headquarters was highlighted, which was the inhumane barbarity and a biochemical weapon attack against the same nation. A joint statement from Nepal condemning the anti-national inhumane acts was presented which was unanimously supported by the participants of the meeting.
A letter of best wishes to the supreme leader of Korea, His Excellency Marshal KIM JONG UN was adopted during the meeting which was handed to the Ambassador by the Chairman of the function Mr. Manik Lama, Chairman of Nepal Association for Supporting Songun Policy.

Share