Online Movie Screen, The Story of Friendship between Korea and Indonesia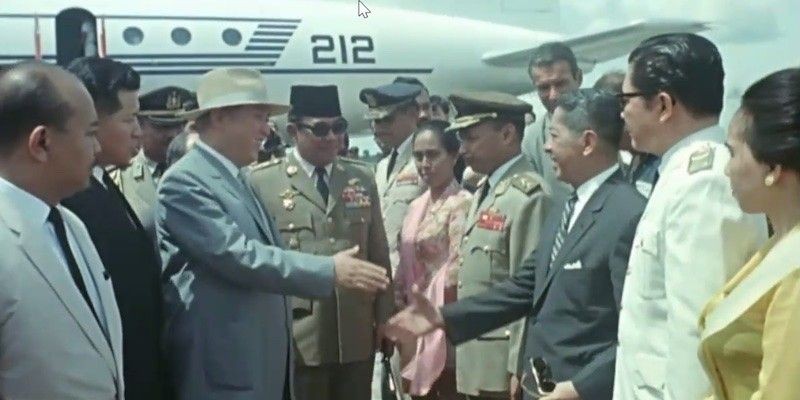 In commemoration of the death of the founder of the DPRK North Kim Il Sung, the Embassy of the Democratic People's Republic of Korea (DPRK) and the Indonesian-Korean Friendship Association and Cultural Exchange (IK-FACE) held an event to watch together documentaries through the Zoom Meeting application, Saturday, July 9th, 2022.
Film screened by North Korean diplomat Ri Chong Ryul from the Embassy on Jalan Sumenep, Menteng, Central Jakarta, about the visit of North Korean founder Kim Il Sung to Indonesia in April 1965.
Kim Il Sung, accompanied by his son Kim Jong Il, visited Jakarta from April 10 to 20 that year, among others, to attend the 10th anniversary of the Asia-Africa Conference (KAA).
During the visit, Kim Il Sung also received an honorary star that was pinned by President Sukarrno, and an Honoris Causa Doctorate awarded by the University of Indonesia.
The movie screen activity was also attended by the Chairman of IK-FACE Teguh Santosa and a lecturer in International Relations at Padjadjaran University Teuku Rezasyah.
In his introduction, Ri hopes that this film will provide a broader perspective on the longstanding good relations between the two countries.
"Perhaps many have just heard the story of the relationship between the two countries. This is an opportunity to see the journey of friendship," said Ri.
The film begins with a scene where the plane carrying Kim Il Sung's entourage is about to land at Kemayoran Airport in Jakarta. The aircraft was escorted by Indonesian Air Force fighter aircraft.
One of the common images throughout the documentary is Kim II Sung's ever-expanding smile and cheerful face.
He was warmly welcomed by the Indonesian people. Both in Jakarta, in Bogor, and in Bandung.
The documentary film records very well the commitment of President Sukarno and President Kim Il Sung to continue promoting anti-imperialist and anti-colonial attitudes.
Kim Il Sung on one occasion also praised the patriotism of the Indonesian people who succeeded in seizing power from Japan and expelling the Dutch who wanted to re-occupy the country.
During that visit, Kim II Sung, who is the grandfather of Kim Jong Un, celebrated his birthday on April 15, 1965.
Previously, in a meeting with Bung Karno at the Bogor Botanical Gardens, Bung Karno gave an orchid flower called the Kimilsung Flower. The flower is now very well developed in North Korea, and is displayed every Kim Il Sung's birthday.

Share