Becoming the Father of the Children of Whole Country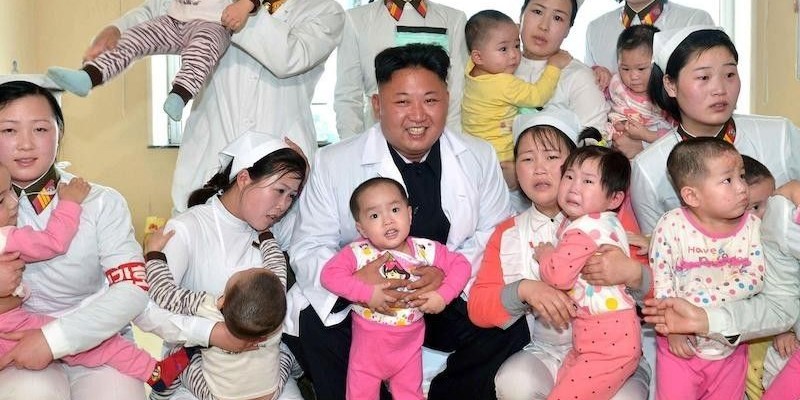 IT is said that nothing is more important than children's laughter to look into the mightiness and eternal future of a country.
We can always see a bright look on the faces of the children in our country which is overflowing with warm affection, where the future smiles on us and hopes spring afresh in our hearts.
In the morning, the children can be seen going to school frivolously with "Sonamu" (pine tree) school bags on their shoulders. What can be seen also is the faces of children like flower buds who write letters in square style with a crunching sound on the "Mindlle" (dandelion) note book holding "Haebaragi" (sunflower) school things in their hands. And what is heard in nursery, kindergarten, baby home, and children's home is the cheerful laughter of the children after receiving dairy products.
Our country is indeed inscribed with a myriad of heart-warming stories of loving the future which goes down with the times of passion.
In retrospect, respected Comrade Kim Jong Un spared no efforts in the last ten years to show warm love, benevolence and tender loving care for the new generation. These have been recorded in schools, boarding schools, baby homes, children's homes, Okryu Children's Hospital and Pyongyang Maternity Hospital across the country. These also have been permeated in the factories built everywhere in our country.
He saw to it that the modern production process of bag cloth is refurbished in Kim Jong Suk textile factory saying that the Party will fully take charge of providing school uniforms, shoes, school things and bags for children. When the Minddle (dandelion) Notebook Factory was built, he had a look at the samples and left his meaningful autographs including "ample knowledge, high morality and strong body", "Let's learn for Korea!" and "We envy nothing in the world".
At a Party meeting recently held, he said that the issue of producing children's school uniform is not a light work to be done conditionally, but it is the policy of our Party and eternal state policy of our Republic which should be done unconditionally as a top priority, and he took another important measure to supply all the students with good quality school uniforms and bags of new type.
The real value of genuine love and devotion is much more appreciated at a needy time.
When we look around the world, we can find many children losing their lives in the unrelenting disturbances and fading away with heartbreaking longing being unrealized, being subject to all kinds of social evils.
Even in the countries that are boasting of civilization of their own, children are falling prey to violence in families and society, and they are falling victim to gun-related crimes and murder being committed every day.
However, beautiful dreams and hopes of our children are coming into full bloom, and the sonorous and cheerful laughter they burst out without any envy in the world are resounding ever more clearly in our country even though it is in such a harsh condition.
Nowhere in the world can be found such an emotional picture where the leader of one country bring up all the children as the masters of the future, becoming the father of the children of whole country and being blessed with the children.

Share